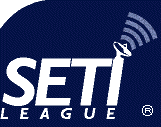 Departments
Membership Services
General Info
Financial Info
Activities
Awards
Coordinators
Director's Info
Members' Info
Policies
Forms
Publications
Official Publications
Director's Publications
Ask Dr. SETI ®
Fiction
Non-Fiction
Reviews
Reading Lists
Technical Support
Systems
Antennas
Amplifiers
Receivers
Accessories
Hardware
Software
Press Relations
Fact Sheets
Local Contacts
Editorials
Press Releases
Photo Gallery
Newsletters
Internet Svcs


SETI League Technical Initiatives

The Very Small Array
---
The SETI League, Inc., pioneers in the use of backyard satellite TV dishes for SETI research, has since 1999 been hard at work on a new kind of radio telescope -- Array2k -- which will combine a multitude standard satellite TV antennas into a single powerful radio telescope, at a fraction of the cost of a single giant dish such as those at Green Bank and Jodrell Bank.

Our anticipated budget for Array2k is $250,000 US, or just one percent of what our colleagues at the SETI Institute are spending for their far more ambitious Allen Telescope Array. Although our financial requirement is a minute fraction of what has been spent in the past on research-grade radio telescopes, it is still a non-trivial sum, which has yet to be raised, and the support of SETI enthusiasts everywhere is encouraged.

While our Array2k fundraising efforts continue, SETI League executive director H. Paul Shuch has begun construction of an eight-dish prototype, dubbed the Very Small Array (VSA), in the backyard of his rural Pennsylvania home. Designed to operate at 1296 MHz in the 23 cm ham band, he will be using it to run receive experiments with our W2ETI Moonbounce Beacon. The design bears superficial resemblance to the SETI Institute's better-known seven-dish Rapid Prototype Array, but is budgeted at a scant $10,000, not coincidentally just one percent of what was spent by the SETI Institute on their more complex RPA.

Watch this space in the months ahead, to see how donated dishes, student labor and volunteer design work are being combined to test a high-tech concept on a shoestring budget.

(Lack of) Progress Report
Since mid-2006, work on the VSA has ground to a halt, due to depletion of available funds. Phase 1 of the project, construction of all required physical structures, was completed in 2004, on schedule and within budget. Phase 2, front-end electronics (begun in 2005), and Phase 3, back-end electronics (initially scheduled for 2007), require the purchase of several thousand dollars worth of components. Although ample volunteer labor is available, until grants or donations sufficient to cover hardware costs are received, the VSA will remain a work in (regrettably little) progress. Potential donors are encouraged to contribute to this worthy endeavor.
VSA Briefing Chart (Portable Document Format)
VSA Technical Article (Portable Document Format)
Press Releases:

Letters of Support

Editorials
The VSA proudly flies the Flag of Earth.
Image © 1970 by James Cadle
Click to enlarge
Donate to the VSA Project: