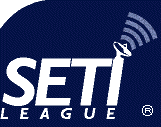 Departments

Membership Services
General Info
Financial Info
Activities
Awards
Coordinators
Director's Info
Members' Info
Policies
Forms

Publications
Official Publications
Director's Publications
Ask Dr. SETI ®
Fiction
Non-Fiction
Reviews
Reading Lists

Technical Support
Systems
Antennas
Amplifiers
Receivers
Accessories
Hardware
Software

Press Relations
Fact Sheets
Local Contacts
Editorials
Press Releases
Photo Gallery
Newsletters
Internet Svcs




Ask Dr. SETI ®
---
SETI is perhaps the most highly interdisciplinary of sciences, encompassing the fields of cosmology, biology, philosophy, psychology, sociology, and technology. Since readers' questions touch on all these disciplines, past Ask Dr. SETI columns have been arranged into six chapters.
Navigation Note: Navigating the pulldowns below requires a JavaScript-enabled browser. If your browser does not support JavaScript, please click on the "Links" labels to the left of each Chapter.
See also: Frequently Asked Questions
---
Members are invited to submit their technical questions via email to drseti _at_ setileague_dot_org. All questions submitted become the property of The SETI League, Inc. Individual email responses will be attempted, but are not guaranteed. Submission constitutes your permission for us to publish your question, and our answer, on this Web site, as well as in SearchLites, our quarterly newsletter.

Remember, he's not a real doctor (but rather, a Ph.D., the kind who has to work for a living!) For health questions, consult a competent medical professional.