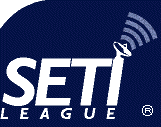 SETI League EME (Moonbounce) Station
Reception Reports
---

In the first year after The SETI League's W2ETI 1296 MHz EME beacon went online, we received reception reports from the Arecibo Radio Observatory in Puerto Rico, the Sir Bernard Lovell Telescope at Jodrell Bank UK, an undocumented "I heard you" from a ham in Oklahoma, and some very detailed reports and screen dumps from member Tom Hutter, who is close enough to the transmitter to receive both the direct wave and the lunar echo. We are now beginning to receive reception reports from several of our Project Argus participants. That's a good start, but where are all the reports from the hundreds of 1296 MHz moonbouncers all over the world?
As we continue to upgrade our moonbounce beacon facilities, The SETI League would find reception reports of great value. Such reports should indicate your location, date and time of reception, and a signal report. Feel free to attach screen dumps or DSP files in your email reports (though attachments should never be sent through any of the SETI League email lists).
To heat things up a bit, we will shortly be adding random strings of Morse code characters to our EME transmissions. Each string will be associated with a known (to us) transmit power level. Awards will be offered to those of you demonstrating reception of various weak EME signals. These ongoing weak-signal reception tests, patterned after the popular ZRO tests long conducted by AMSAT, will be known as the ETI tests. Watch the page for the formal announcement, shortly.
Please feel free to forward this page on to anyone you know with 1296 MHz moonbounce capability, whether a SETI League member or not.
73, Paul N6TX
Reception reports via email to station trustee Richard Factor, WA2IKL, are hereby solicited.

Anyone detecting the W2ETI beacon is encouraged to apply for your Extra-Terrestrial QSL Card.
Reception Reports received to date:
Arecibo Radio Observatory, Puerto Rico
Nuffield Radio Astronomy Labs, Jodrell Bank UK
Jay Liebman, K5JL, Oklahoma USA
Tom Hutter, New Jersey USA
Bertrand Pinel, F5PL, France
Allen Katz, K2UYH, New Jersey USA
Cor Maas, VE7BBG, British Columbia Canada
D. Stuart Jones, GW3XYW, Wales UK
Joe Martin, K5SO, New Mexico USA
Jan van Muijlwijk, PA3FXB, Netherlands
We know that others have received the beacon, but haven't officially informed us. Please speak up! We look forward to adding your name here.