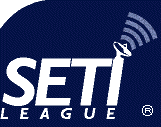 SETI League EME (Moonbounce) Station
Technical Specifications
---

Because the beacon system is evolutionary, and numerous upgrades are planned, it (like the moon) is a moving target. Nevertheless, technical details as of 13 March 2006 are described below:
Location: Kinnelon NJ USA, Grid Square FN21ta
Station Trustee: Richard Factor, WA2IKL
Transmitter: currently 350 watts CW output (nominal)
Frequency: 1296.000 MHz
Accuracy: better than +- 2 Hz
Feedline: 60 feet of 5/8 inch Cellwave hardline (estimated loss 3 dB)
Antenna: quad helix array, RHCP uplink; gain +24 dBi
Tracking Hardware: Kansas City Tracker driving Yaesu az/el rotors
Tracking Sortware: NOVA for Windows
EIRP: estimated at +76 dBm
Path Loss: nominally 271 dB (round-trip isotropic propagation plus lunar reflective losses) [1]
Incident Isotropic Power: -195 dBm nominal
Sensitivity of typical Project Argus radio telescope:(assuming 12 foot dish, 50% efficiency, 200 K system noise temperature, 10 second integration) = -207 dBm [2]
Potential Signal-to-Noise Ratio (SNR): +12 dB (including DSP and integration gain)
MacCleur, Chuck, W8MQW, A Pathloss Primer, Symposium 99 Proceedings, Syracuse EME Symposium, August 1999.
Shuch, H. Paul, N6TX, SETI sensitivity: calibrating on a Wow! signal. Proceedings of the AMSAT-NA Fourteenth Space Symposium: 130-141, American Radio Relay League, November 1996.