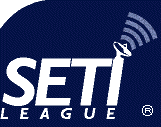 SETI League EME (Moonbounce) Station
Operating Schedule
---

The SETI League's moonbounce beacon operates whenever our Moon is above the horizon at the station location. That is, the beacon turns on when the Moon rises above zero degrees elevation, and turns off when the Moon decends to zero degrees elevation at Kinnelon, NJ, USA. It transmits in a five minute cycle, beginning exactly on the hour, and repeating every five minutes . The present transmission sequence (subject to change -- watch this space for announcements) is as follows:

Key down, full power (350 Watts from the PA; 175 Watts to the antenna), for one minute
5 WPM CW identifier, W2ETI (two callsign cycles), for approx. 30 seconds
Key up, for approx. 3 1/2 minutes
Repeats every five minutes
All times synchronized to GPS (-0 +1 sec.)
Reception times on Earth will be delayed approximately 2.5 seconds by round-trip EME propagation
The SETI League is hopeful that the beacon can be received even by modest amateur radio telescopes, given the power of available Digital Signal Processing (DSP) hardware and software. Future tests in medium power mode will challenge our more advanced stations, while long-duration transmissions at very low power levels are planned. These will be suitable for experiments involving very long integration times. Watch this page for announcements of such scheduled tests. We solicit reception reports from amateur and professional observers alike.