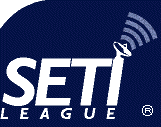 Departments
Membership Services
General Info
Financial Info
Activities
Awards
Coordinators
Director's Info
Members' Info
Policies
Forms
Publications
Official Publications
Director's Publications
Ask Dr. SETI ®
Fiction
Non-Fiction
Reviews
Reading Lists
Technical Support
Systems
Antennas
Amplifiers
Receivers
Accessories
Hardware
Software
Press Relations
Fact Sheets
Local Contacts
Editorials
Press Releases
Photo Gallery
Newsletters
Internet Svcs


Annual Meeting Goes Virtual
by H. Paul Shuch
Since its founding in 1994, the membership-supported SETI League has been pleased to host an in-person Annual Meeting every April. That is, until the emergence of the COVID-19 pandemic last year. In March of 2020, the Trustees of the SETI League deemed a physical gathering unsafe. Unfortunately, we were lacking the infrastructure to conduct an online meeting, or the time to organize one. We were able hold only the Board meeting which our Bylaws require, and that over the Skype platform. Three of our four Trustees attended, but no other SETI League members.
As the pandemic dragged on, most of the world's scientific meetings were canceled, postponed, or replaced with virtual gatherings. Zoom became the online platform of choice for maintaining social, if not physical, contact. In fact, during Year One of the New Normal, my family and I personally participated in a Zoom graduation, a Zoom wedding, several Zoom birthday parties, a couple of Zoom concerts, three Zoom conventions, and (sadly) a Zoom funeral. (I joked with my relatives that all we were missing were a Zoom birth and a Zoom divorce.)
This February, it became clear that there could be no traditional SETI League Annual Membership Meeting in 2021. By then, we were all rather well versed in Zoom technology, so the decision to go virtual pretty much made itself. Our members and supporters are thus invited to join us, online, at the originally scheduled date and time, for The SETI League's first virtual mass gathering. It remains to be seen how successful this will be, but then, SETI success has always been elusive.
Our first (and, we can only hope, our last) virtual meeting will convene at 1 PM EDT (GMT minus 4 hours) on Sunday, 18 April 2021, to be followed by our Board of Trustees meeting one hour later. Members and supporters wishing to tune in are asked to email SETI League Secretary Heather Wood not less than two days prior, at hwood50_at_aol_dot_com, so she can email you logon details in advance of the meeting.
I personally miss seeing my fellow SETIzens in the flesh. One can only hope that will again be possible, some day. Until then, there's always Zoom.
---
Disclaimer: The opinions expressed in editorials are those of the individual authors, and do not necessarily reflect the position of The SETI League, Inc., its Trustees, officers, Advisory Board, members, donors, or commercial sponsors.