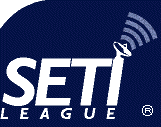 Departments
Membership Services
General Info
Financial Info
Activities
Awards
Coordinators
Director's Info
Members' Info
Policies
Forms
Publications
Official Publications
Director's Publications
Ask Dr. SETI ®
Fiction
Non-Fiction
Reviews
Reading Lists
Technical Support
Systems
Antennas
Amplifiers
Receivers
Accessories
Hardware
Software
Press Relations
Fact Sheets
Local Contacts
Editorials
Press Releases
Photo Gallery
Newsletters
Internet Svcs


SETI League Salutes John Mather
by H. Paul Shuch
Executive Director Emeritus
Hats off to my friend John C. Mather, NASA Senior Project Scientist on the James Webb Space Telesope, for the successful launch of his great science instrument this past Christmas Eve. Initially dubbed the Next Generation Space Telescope during its decades-long development, the JWST is the logical successor to the spectacular Hubble Space Telescope, which has informed and shaped our view of the cosmos for over three decades, and (amazingly) contiunues to function far beyond its design lifetime. We are confident the Webb will be just as productive.
Though John and I have only met a few times in person, I feel a deep personal connection to him. Our lives have run parallel in many ways. John and I are of the same generation, having been born just ten weeks apart. We both lived in Pennsylvania as undergraduates, and both attended the University of California, Berkeley, where we were both Hertz Fellows and earned our PhDs. John and I share a commitment to space exploration, albeit employing very different research techniques. He seems to favor massive and expensive, government-funded research instrumentation, while we in the SETI League continue to do fringe science in our spare time, on an all but nonexistent budget.
Here, the comparisons break down. John has admittedly received a Nobel prize, an honor that thus far eludes me. This disparity is clearly the fault of you, the members of our SETI League, for your failure (thus far) to uncover incontrovertible evidence of the existence of extraterrestrial intelligence! Once one of you has succeeded in our bold endeavor, I assure you we will share our very own Nobel. Until then, let us join in wishing John and his newest research tool the very best.
---
Disclaimer: The opinions expressed in editorials are those of the individual authors, and do not necessarily reflect the position of The SETI League, Inc., its Trustees, officers, Advisory Board, members, donors, or commercial sponsors.