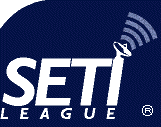 Chapter 6: Technology
---
Radiation Hardened Interstellar Probes
Dear Dr. SETI:
In connection with my day job as an aerospace engineer, I recently attended a meeting put on by one of the semiconductor companies. There, it was claimed that some of their Radiation Hardened parts have an MTBF (mean time between failures) on the order of 163,000 years. So, it appears that we now have most of the electronics needed to support very long space flights. Might this begin to make interstellar travel a possiblity?
Jim, an amateur radio astronomer
The Doctor Responds:
That's certainly the opinion of rocket scientist Mark Millis. Mark is a NASA engineer who used to head up the agency's Breakthrough Propulsion program. He is an advocate of interstellar missions, and thinks we'll be in a position to launch them within our lifetime. (Mark is about my age, so I will concede that he may be just a bit optimistic. Still...)
And, if we can launch interstellar probes, what is there to keep more advanced civilizations from doing the same? This is the premise of the Invitation to ETI initiative (http://ieti.org), of which I am Principal Investigator. Of course, detecting such probes is a long-shot. But, it's a very cheap, low-risk experiment with potentially high payoff, so why not try?