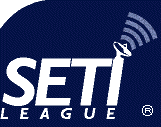 Chapter 6: Technology
---
ATA Dish Design
Dear Dr. SETI:
Thanks for sending along the latest SearchLites. I found the article about the Allen Telescope Array interesting. I wonder if you could explain the ATA dish design. I've seen pictures of the array, and find the design intriguing.
Doc, North Dakota
The Doctor Responds:
I'm glad you're enjoying SearchLites, Doc. The ATA dishes are Gregorian antennas. They use a ~6 meter offset-fed primary mirror, which reflects incoming signals onto a ~2 meter secondary reflector which is mounted outside of the focal point. The secondary mirror in turn reflects the signals to a broadband log-periodic feed, which contains a cryogenically cooled combination balun (balanced-to-unbalanced transformer) and an extremely broadband, ultra-low-noise preamplifier. All very high efficiency, very complicated, and very expensive!