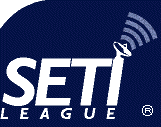 Departments
Membership Services
General Info
Financial Info
Activities
Awards
Coordinators
Director's Info
Members' Info
Policies
Forms
Publications
Official Publications
Director's Publications
Ask Dr. SETI ®
Fiction
Non-Fiction
Reviews
Reading Lists
Technical Support
Systems
Antennas
Amplifiers
Receivers
Accessories
Hardware
Software
Press Relations
Fact Sheets
Local Contacts
Editorials
Press Releases
Photo Gallery
Newsletters
Internet Svcs


Chapter 6: Technology
---
What 's Special About 9.24176684 GHz?
Dear Dr. SETI:
I am a Radio Telescope Operator at the 12m ALMA Prototype Antenna on Kitt Peak AZ. We get tours. One question referenced the movie Contact. I just finished the book and cannot verify or validate the reference on page 66 and page 72 to 9.24176684 GHz. Page 68 says this frequency is "near the minimum in the galactic radio noise background. It's the right kind of frequency for anyone who wants to be heard over a distance."

What does this frequency represent? Is it a molecular transition? Something atomic? I cannot get any transcendental relationship out of it using pi, e, phi, hydrogen spin flip or OH. (And it's not Cesium, 9,192,631,770 hertz.)

Any leads appreciated.

Robert, Arizona Radio Observatory
The Doctor Responds:
Robert, first of all, remember that Prof. Sagan's novel was fiction. So, he was free to make up whatever frequency he wanted. The quiet microwave window is quite broad (about 1 to 10 GHz), and any frequency within that range is just as likely (or unlikely) as any other.

As it happens, there's a reason why you didn't find any spectral emission lines there: Carl chose (at random) a frequency in the microwave window that's free from both terrestrial and cosmic interference. So, there's nothing really special about that particular frequency - but, it worked well in his story.