Introducing:
---
The SETI League's Volunteer Coordinator for France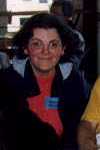 Elisabeth Piotelat was born in 1971 in Lons Le Saunier in the East of France. She grew up in a small village dreaming of planes and stars, surrounded by cartoons, space conquest books, and model rockets. At the age of 18 she bought her first telescope and discovered Science-Fiction.
In 1992, Elisabeth was admitted to the ENSIMEV (Ecole Nationale Supérieure d'Ingenieurs en Mécanique et Energétique de Valenciennes) to become a "generalist engineer". In 1994 she had a 4 month training period in the DLR in Lampoldshausen (Germany) where she studed the frost formation on spacejets in the atmosphere. She get her diploma after another training period in the Nançay radio-observatory, where she worked on the design of a Human-Computer Interface. During the hollidays, she stayed in Nançay as an operator for the big radiotelescope.
She worked for the chip builder Melexis in Tessenderlo (Belgium) for one year, but couldn't stand the misorganisation (there was no real heirarchy) and her colleagues' misogyny (she was told that she had been recruited because there were no female engineers in the company). Being an alien is really hard! She learned a lot of electronics at the beginning, but quickly got the impression that testing LEDs and relays in ovens was a waste of time. She had better dreams, full of radiotelescopes.
In the beginning of 1998, she found a place in the Computing Center of the IN2P3 (Institut National de Physique Nucléaire et de Physique des Particules). She's responsible for all that has to do with technical docs (FrameMaker, web...). She discovered the SETI League that March and wonders why she didn't see it sooner. Her first contacts with Amanda and Paul were excellent. Within a few months she learned more things (thanks to the mailing list and the project Argus report) than during one year in Belgium. Her "Nancay nostalgia" disapeared and she knows that there is a lot to do with the League: making it better known in France, and may be, one day, building her own station.
---