SETI League Press Release
---
Own A Piece of SETI History!
For more information contact: Dr. H. Paul Shuch, Executive Director
(201) 641-1770, or email info_at_setileague_dot_org
For Immediate Release, Please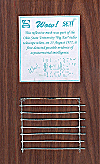 LITTLE FERRY, NJ.., August 1, 1998 -- In 1998 the Big Ear Radio Telescope at Ohio State University, home to the world's longest running and best known SETI (Search for Extra-Terrestrial Intelligence) program, was demolished to make way for a commercial golf course. We have salvaged 100 small pieces of the metal mesh which once covered the surface of this great antenna.
The mesh sections, each a resonant half-wavelength square at Big Ear's operating frequency of 1420 MHz, are mounted on a wooden plaque for public display, along with a depiction of the August 15, 1977 "Wow!" signal which made OSU SETI world famous. These sections of antenna reflector were actually illuminated by the "Wow!" signal, the most tantalizing (yet unconfirmed) evidence to date of extra-terrestrial intelligence.
You can own one of these artifacts for a minimum $100 US tax-deductible contribution to The SETI League, Inc., PO Box 555, Little Ferry NJ 07643. Contributions by Visa or MasterCard are encouraged; please include credit card number and expiration date. All proceeds will be shared equally by The SETI League, Inc. and the Ohio State University Radio Observatory. Please allow four weeks for delivery.
SETI scientists seek to determine through microwave and optical measurements whether humankind is alone in the universe. Since Congress terminated NASA's SETI funding in 1993, The SETI League and other scientific groups have been attempting to privatize the research. Experimenters interested in participating in the search for intelligent alien life, or citizens wishing to help support it, should email to join_at_setileague_dot_org, check the SETI League Web site at http://www.setileague.org/, send a fax to +1 (201) 641-1771, or contact The SETI League, Inc. membership hotline at +1 (800) TAU-SETI. Be sure to provide us with a postal address to which we will mail further information. The SETI League, Inc. is a membership-supported, non-profit [501(c)(3)], educational and scientific corporation dedicated to the electromagnetic Search for Extra-Terrestrial Intelligence.
P.S. Tearsheets are always appreciated. Thank you.
-end-
---