SETI League Press Release
---
SETI Acquires Monster Australian Antenna
For more information contact: Dr. H. Paul Shuch, Executive Director
(201) 641-1770, or email info_at_setileague_dot_org
For Immediate Release, Please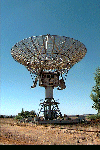 BRISBANE, AU.., April 25, 1998 -- Noel C. Welstead, Eastern Australian coordinator for the nonprofit SETI (Search for Extra-Terrestrial Intelligence) League, has reached an agreement with the Australian Commonwealth Scientific & Industrial Research Organization (CSIRO) to take possession of a 60 ft radio telescope that is currently located at the Parkes Radio Observatory in New South Wales, Australia.
The radio telescope is presently mounted on railway tracks where it served as a prototype design instrument for the Australia Telescope Array also operated by the CSIRO. The dish has been mothballed for a number of years and will need extensive refurbishment to get it on line again after it is moved to Noel's home state of Queensland. A 2 acre site has been selected at Boonah, a small rural town about 80 km south of Brisbane. Boonah was selected as the new home for the radio telescope because it is well shielded from urban radio interference, being surrounded by mountains.
The SETI League operates Project Argus, a global search for intelligent signals in space which will ultimately employ 5000 small amateur radio telescopes worldwide. When asked why he requires such a large dish, Welstead replied, "even though the instruments used around the world for Project Argus are large enough to detect radio signals out to about 200 light years, when a signal is eventually received by one of our stations, it will need verification. Our new 20 meter facility in the Southern Hemisphere can provide the ETI Verification system that we presently lack."
SETI scientists seek to determine through microwave and optical measurements whether humankind is alone in the universe. Since Congress terminated NASA's SETI funding in 1993, The SETI League and other scientific groups have been attempting to privatize the research. Experimenters interested in participating in the search for intelligent alien life, or citizens wishing to help support it, should email to join_at_setileague_dot_org, check the SETI League Web site at http://www.setileague.org/, send a fax to +1 (201) 641-1771, or contact The SETI League, Inc. membership hotline at +1 (800) TAU-SETI. Be sure to provide us with a postal address to which we will mail further information. The SETI League, Inc. is a membership-supported, non-profit [501(c)(3)], educational and scientific corporation dedicated to the electromagnetic Search for Extra-Terrestrial Intelligence.
P.S. Tearsheets are always appreciated. Thank you.
-end-
---