In Memoriam:
---
Remembering Muriel Hykes
11 January, 1956 – 28 July, 2023
by H. Paul Shuch, Executive Director Emeritus
Those SETI League members who have attended our Annual Membership Meetings, SETICons, or, various astrobiology and bioastronomy conferences around the world over the past three decades, will probably have met my wife, Muriel Hykes. A biochemist with degrees in biology and psychology, as well as teaching credentials and a strong research interest in neuropharmacology, Muriel was forced by illness to drop out of medical school at LSU Medical Center in New Orleans. Despite this, thanks to the advent of the Internet, she managed to establish herself as an independent science consultant, educational advocate, and practitioner of the alternative healing arts. She once told me that if she had been healthier, she would probably have ended up "just another asshole MD-PhD researcher working for Big Pharma."
Muriel was out doing Christmas shopping the day in December l994 that SETI League founder Richard Factor phoned me up and asked me to head our nascent organization. When I told her about the call, seeking her counsel and advice, Muriel's reaction was "let me get this straight. You're being asked to give up a tenured Full Professorship, a job for life backed by the taxing authority of the State, in order to pursue fringe science on soft money. How can you possibly pass up a deal like that?"
From that moment on, Muriel's support was unwavering. She proofread every SETI League newsletter, editorial, song, web update, and press release. She traveled with me to countless conferences and SETI meetings around the world, previewing my PowerPoint presentations. She provided our officers and members with online and telephone tech support. She wore quirky t-shirts, prompting me to do the same. She encouraged the whole membership in our Quixotic quest, knowing full well that it was unlikely any of us would live long enough to witness SETI Success. And, she raised her five sons with the belief that, working together, there was no limit to what a dedicated corps of enthusiasts could accomplish.
Muriel Hykes died on 28 July 2023, following a 19-month long struggle with congestive heart failure. I sat beside her and held her hand while she drew her last breaths. The SETI League will be grateful to accept memorial contributions in her name.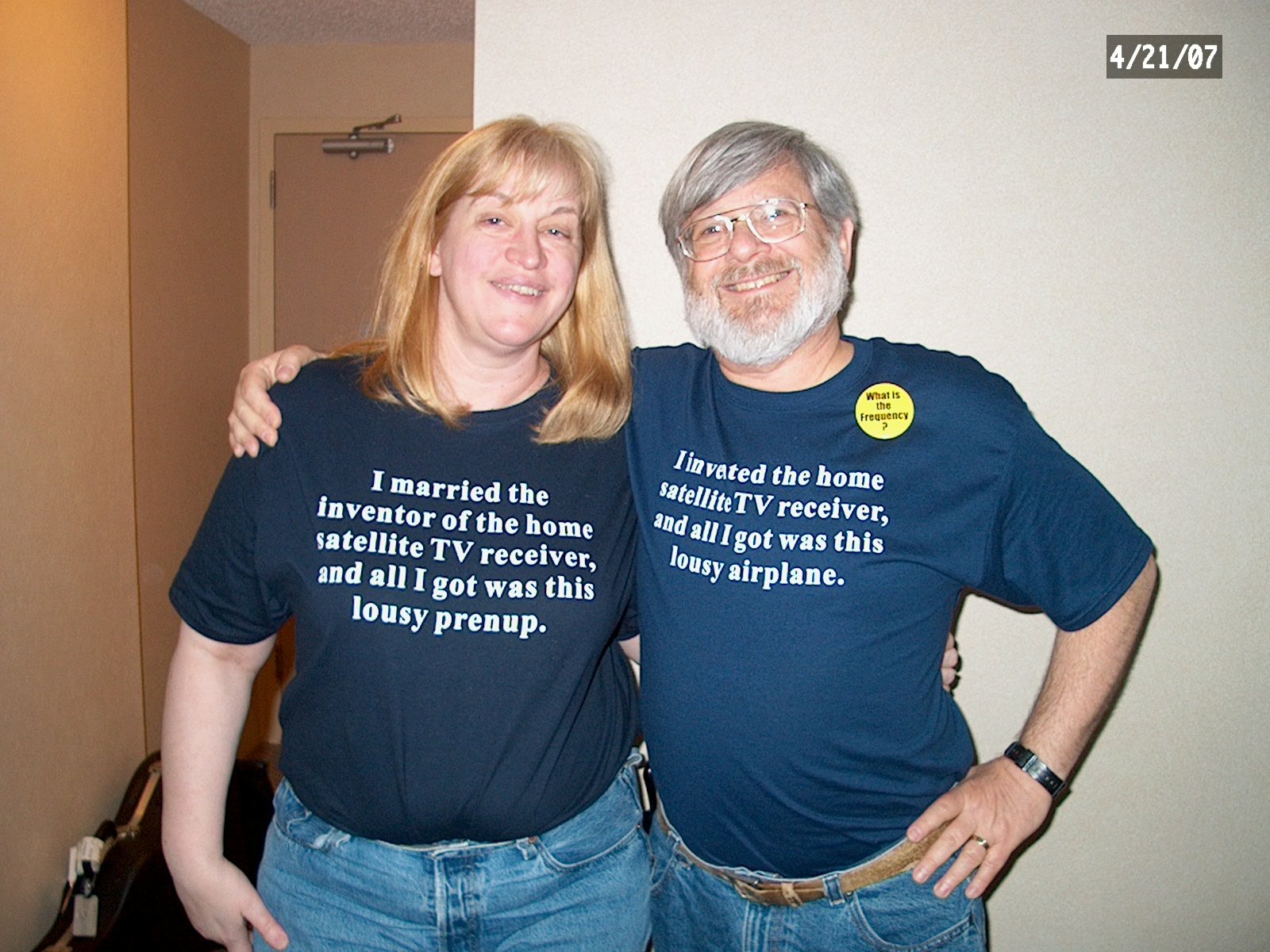 ---