In Memoriam:
---
Gregory Dale Bear
August 20, 1951 – November 19, 2022
The SETI League is saddened to report the recent death of our dear friend and advisor, noted author Greg Bear. One of the "Three Bees" of science fiction (along with his longtime friends David Brin and Gregory Benford), Bear was known for his many short stories, and over fifty novels in the hard sci-fi genre, as well as works of fantasy. His writing garnered five Nebula Awards and two Hugo Awards. His 1987 Locus and Nebula award nominated novel The Forge of God presented one possible explanation for the Fermi Paradox that underlies much SETI research and speculation.
When The SETI League was founded in 1994, Greg Bear's father-in-law, Sci-Fi Grand Master Poul Anderson, was the first person appointed to our Advisory Board (to be joined later by such luminaries as Dr. Frank Drake and Arthur C. Clarke). Following Anderson's death in 2001, Greg graciously agreed to assume his father-in-law's seat as a SETI League advisor. The photo below of Bear and SETI League Executive Director H. Paul Shuch was taken at the 2018 World Science Fiction Convention.
Greg died on November 19, 2022, at the age of 71, following heart surgery from which he never awoke. He had suffered multiple strokes, caused by clots that had been hiding in a false lumen of the anterior artery to the brain since an earlier surgery in 2014. After being on life support for two days and not expected to recover, per his advance healthcare directive life support was withdrawn. Our hearts go out to his wife Astrid Anderson Bear and their two children.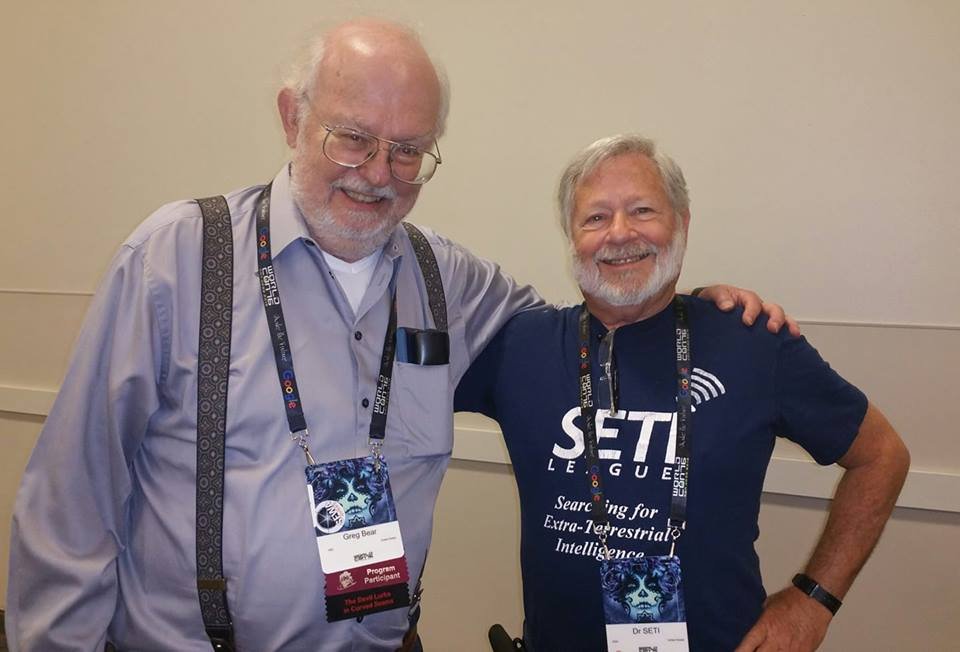 ---